ADAM OPPEDISANO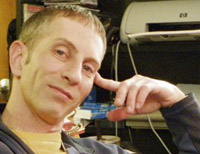 I have 25+ years of experience, partly in the field, in the technology industry including voice, data and peripherals. Experience speaks loudly when it comes to getting the job done in a time and cost effective manner as well as customer satisfaction. Also, I am a detail oriented person and my primary focus, within limits, is profitability, monetarily and honorably.
Secondly, I have 20+ years of experience in customer service; field technician, technical support and business owner/operator. I feel that I can lead a team of field or support technician efficiently and effectively and I can build a team of dedicated employees that put their primary focus on the company not themselves.
My resume may be filled with keywords and experience but the many years in the technology industry has taught me to never stop learning and that there will always be someone better than you at your job. That has kept me grounded and humble and willing to teach others what I have be taught to assure their success.
My high degree of motivation has been recognized by my previous employers who have quickly promoted me to positions of greater responsibility.
Skills
PBX, VoIP PBX & SIP PBX

Call Center Applications

Auto Attendant and ACD/UCD

Data Networks - Firewalls, Switches and Routers

IP Surveillance Systems

Cloud Backup and Disaster Recovery

Door Access and Control Systems

Fluent with HTML Web Site Design

Category 5, Category 6, Aerial and burial cabling

SIP, UDP, RTP, TCP/IP, POTS, T1 and PRI

Basic knowledge in Asterisk

Remote Access including FTP, Telnet, SSH, VM

Writing documentation  & providing training

Healthcare Televisions and Nurse Call Systems

Manager/Supervisor of Customer Support Agents
SKILLS SUMMARY
Experience with Asterisk SIP PBX Platform
Experience with PBX functionality and in Telecom (e.g. extensions, voicemail, AA, IVR, Agents, Queues, Analytics, Mobile)

Experience in troubleshooting VoIP interconnections, SIP telephony, and Carrier or PBX interoperability, QoS
Strong LAN troubleshooting experience, including VLAN issues (CDP/LLDP. DHCP, MTU and MAC filtering issues; firewalls ( NAT, IP & TCP/UDP-based ACLs and Policies, Session Timeouts, ALG)

Knowledge of WAN media including T1/E1-based circuits, Ethernet circuits, WAN protocols including PPP, Frame Relay, Ethernet, encapsulated Ethernet, knowledge of MPLS

Experience in provisioning Cisco, Polycom, Avaya, Yealink phones, ATA device
Ability to perform and analyze packet captures of SiP and RTP messages with tools like Wireshark

Knowledge of router/firewall configurations (Cisco, Fortinet, Palo Alto, SonicWall, Watchguard)

Self-starter, performing day-to- day tasks with minimal supervision, works effectively within cross-functional team

Ability to listen, understand, analyze, and document the complex needs and requirements of end-users and translate their needs into specific actions and solutions

Ability to balance multiple priorities, meet deadlines, and understand business impact and prioritize assignments

Strong writing and customer service skills, attention to detail

Persistence, positive attitude, and solid judgment

Ability to learn and master new systems quickly and become a functional product expert

WORK HISTORY
Fuze formally ThinkingPhones - November 2017 to Present
Senior Technical Support Manager, Network and Platform
Identify, develop, and implement service improvements, resulting in measurable customer satisfaction improvements
Ability to effectively operate in very dynamic and sometimes ambiguous situations
Ability to logically break down and prioritize complex (often technical) problems to enable resolution in an objective manner
Review cases to ensure expectations are exceeded
Constantly assess and align resources to the needs of the business and customer
Proactively communicate with internal and external customers
Demonstrate passion for customer satisfaction and ignite that passion in others
Introduce methods you know will improve the way your team operates
Identify ways to increase efficiencies
Own the processes you put in place and take pride in helping develop company communication
Oversee the management of tickets within the Network Support Engineering team
Work to resolve technical network-related issues as an individual or utilizing high level technical resources
Participate in call center environment for network-related issues escalations, internally and externally
Participate in after-hours On-call rotation
Fuze formally ThinkingPhones - February 2016 to October 2017
Senior Critical Situation Manager
As a member of the Global Center of Excellence Organization, as the Senior Critical Situation Manager, I manage the most urgent customer problems involving Fuze products and services, am thecommunication focal point for the customer, and I oversee all resolution efforts from the initial problem identification to post-mortem analysis. I also act as a customer advocate to help drive improvements across various internal organizations.
 
Own and manage critical situations through completion
Manage all Internal and External Communication
Identify and assess impact and urgency of each situation, develop plan of action
Act as single point of contact (SPOC) for internal and external stakeholders
Leverage internal resources to drive critical issues to successful resolution
Build relationships with internal Teams and the customer
Document events, conversations, solutions
Create case studies
Define process and escalation points for critical customer situations
Establish and develop key relationships within the Fuze global organization to align and leverage global customer support initiatives
Drive alignment of support processes within customer care center of excellence
Lead cross-departmental process improvement to maximize customer retention and revenue
Employ practical experience for managing customer conflict
Foster collaboration within a cross-functional environment
Fuze formally ThinkingPhones - May 2015 to January 2016
Senior Level Network Support Engineer/Team Lead
Work directly with customers' IT and Network personnel through phone, email, and case management system to troubleshoot and resolve customer reported network issues
Configure and support Routers, Switches, Firewalls including but not limited to Adtran, Cisco, Juniper and SonicWall
Restore, recover, or alter configurations, logical or physical, to maintain service integrity
Respond proactively and appropriately to client monitoring alarms
Manage multiple issues in parallel, taking responsibility for meeting SLA and updating customers
Proactively suggest and implement process improvements
Configure and support T1's, setting up QoS, separating voice endpoints on their own VLAN, applying custom inbound / outbound rules to the firewall, etc
Configure and support DIDs, Number Portability, TDM circuits, Data access DSL/Cable/T1/Metro Ethernet
Configure and support OS - Linux (and / or other Unix and command line VM
Network analysis fundamentals and troubleshooting skills
Communicate verbally and in writing with customers in a professional and friendly manner
Network troubleshooting of SaaS based architectures including network fundamentals (OSI Model, TCP/IP, Ethernet, routers, switches, firewalls) and any hands-on experience with routers / firewalls
Packet capture analysis using ethereal/Wireshark or equivalent
ARO IT Solutions, MA– 2005 to May 2015
Owner/Operator
Design and implement Key Phone Systems, PBX's and VoIP PBX's
Design and implement Data Networking Equipment
Design and implement Voice and Data Cabling Plants
Business Desktop Computer Solutions
Cloud Backup/Disaster Recovery
IP Surveillance Systems and Door Access Systems
Point of Sales Systems
Total Communications, MA, CT & RI– May 2005 to September 2005
Customer Service Technical Sales Engineer
Technical Engineering for Key Phone Systems, PBX's and VoIP PBX's
Technical Engineering for Call Center Applications
Technical Engineering for Data Network components
3COM Corporation, Marlborough, MA – September 2000 to April 2005
Customer Service Technical Support Engineer / Pre-Sales Technical Engineer
Publisher, Web-Based Technical Documentation for Knowledgebase
Lab Coordinator – CSO North America
Provided Post-Sales Technical Support for a VoIP PBX
Provided Post-Sales Technical Support for a SIP PBX
Provide NBX Call Center Technical Support
Provided NBX Unified Communications Technical Support
Provided after hours' technical support 14-20 weeks per year
Provided Pre-Sales Technical Support for complete Voice product line
Beta site manager for the NBX100 V3.0
Wrote technical documentation - web knowledgebase
Edit/publish technical documentation, written by other engineers, for web-based Knowledgebase
Lab Coordinator for North America
AVA Technology Inc., Billerica, MA – April 2000 to October 2000
Customer Service Technical Support Engineer
Provided 24/7 technical support for a PC based voice processing system
Approved Return Merchandise Authorization
Wrote technical documentation for manuals
Consulted Software Development on features and enhancements
ITI Inc, Lansing, MI – January 1998 to March 2000
Communications Technician/Field Engineer
Engineered, installed and serviced many phone systems and voicemail systems and data networks including Samsung and Tadiran (ECI)
Installed and terminated cat 3, cat 5, burial and aerial cable
Integrated systems to ensure proper functionality
Integrated T1, PRI, BRI and ISDN circuits with multiple PBX and Key Systems
Installed proper grounding and lightning protection units such as gas or super resistors
Consulted with customers to complete tasks in a time and cost-efficient manner
PBX Inc., Malden, MA – October 1993 to December 1997
Communications Technician/Field Engineer
Certifications, Accomplishments and Interests
Adtran - Routers and Switches
Inter-tel - Axxess and IP5000 and Call Center Suite
3Com - All VoIP and SIP Products
AVA Technology - All Products
Samsung - DCS, Starmail and Cadence Voicemail
Tadiran - SL and Coral ISBX Installation and Maintenance
Sprint - Protege
AT&T - Partner, Merlin and Legend
Bogen Communication School of Sound - Design and Installation
Key Voice Technology - Verbatim Voice Mail
Telekol - TVM Voice Mail
Panduit Network Systems Group - Category 5, 5e and 6 cable installation
MasteryPoint Learning Systems - Telecommunications
Learning International - Quality Service Skills
Red Cross Volunteer September 11 Search & Rescue - NYC